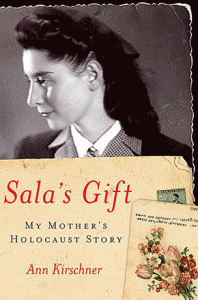 For nearly fifty years, my mother kept a secret.  After surviving 5 years of Nazi slave labor camps, Sala Garncarz Kirschner came to America as a war bride and raised our family without ever speaking of her wartime experiences.  I grew up in a happy and safe home, and became a scholar, writer, and a mother myself, but always wondered about the black hole in my mother's past.
It was not until my mother was scheduled for heart surgery in 1991 that she showed me a priceless collection of more than 350 letters and a diary from her years in the camps, documents that she had kept carefully hidden in a cardboard box.
In that moment, my mother changed my life.
The book is about what happened to her, to the letter writers, and to me when I found myself the recipient of Sala's Gift.
Work-in-progress footage from  "The Letter Carrier" a documentary film by Murray Nossel.
Watch the video | More videos about Sala's Gift
The New York Public Library's exhibition of "Letters to Sala" has travelled throughout the United States and Europe.   See an interview with Sala and Ann Kirschner at the Jacksonville, Florida public library.
SALA'S GIFT has been dramatized by playwright Arlene Hutton.  See scenes from "Letters to Sala" in its first production at the Invisible Theatre in Tucson.
WHAT'S YOUR STORY?
Send a letter to Ann about your family's encounter with history.