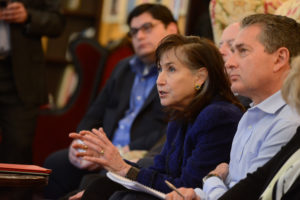 BIOS AND LINKS
Ann Kirschner is University Professor at The City University of New York and president of Comma International, consultants in technology and education.  
She was the Dean of Macaulay Honors College at CUNY and Strategic Advisor to the Chancellor.  She was founding director of the Women in Technology and Entrepreneurship (WiTNY) initiative at CUNY and Cornell Tech.  A veteran of four start-ups in cable, satellite, and online, she was the first digital strategist for the National Football League, where she launched NFL.COM and SUPERBOWL.COM.  A pioneer in e-learning, she founded FATHOM with Columbia University, London School of Economics, and other leading institutions.  
Ann Kirschner serves on the board of Strategic Cyber Ventures and Cricket Media.  Her nonprofit boards include Public Agenda, the Paul and Daisy Soros Foundation, Footsteps, FIRSTnyc. and the advisory boards of the Princeton University Graduate School Leadership Council, and WorldQuant University.  She is the author of SALA'S GIFT (Simon and Schuster, 2006),  and  LADY AT THE OK CORRAL (HarperCollins, 2013), and a frequent speaker and writer on innovation in media, technology, and education.  She is a graduate of University of Buffalo, University of Virginia, and received her PhD from Princeton University, where she was Whiting Fellow in the Humanities.  A frequent contributor to conferences and publications, Ann Kirschner was named one of New York Magazine's Millennium New Yorkers and honored as a distinguished graduate of Princeton University and University of Buffalo.
She lives in New York with her husband, Dr. Harold Weinberg, and is the mother of Elisabeth, Caroline, and Peter.
The Digital Reader:  Kirschner's articles/interviews on e-reading and e-writing