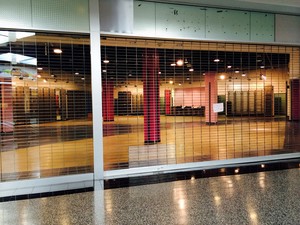 There have been a spate of articles lately about dead shopping malls.  Here's one from Green Acres.
I'm a little too old to have been a teenage mall rat.  For me, the Nanuet Mall will always be the monster that ate the cute little town of Spring Valley, New York, where teenage me admired the clothes at charming idiosyncratic stores like Feders, and bought the best "appetizing" ever at Sirota's.  I still have the Hadley stoneware that my mother reluctantly bought me instead of wedding china, in a shop that specialized in crafts-y kind of tableware.
Now retail shopping is on the ropes, particularly marginal shopping malls.
Shopping malls would make perfect tech incubator spaces.  Think of all that infrastructure — power, water, bathrooms, workspaces large and small, kitchens, security systems — and imagine putting dozens of start-ups there.  Even the parking is ready and in a few cases, links to public transportation.
Hey developers!  Here's a way to salvage existing investments and build up the regional economy!
PS If you know places where this has already happened, please send examples my way.