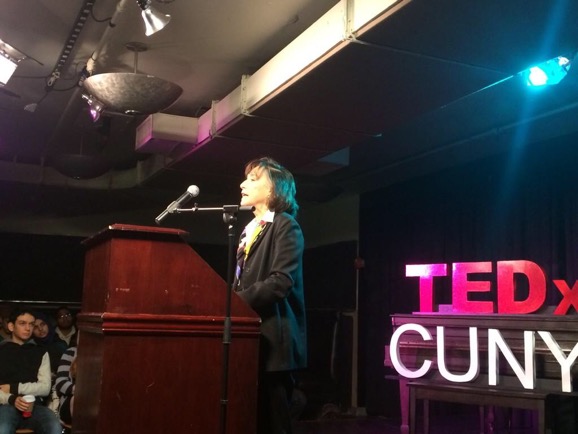 It's so easy to post on Facebook, LinkedIn, and Twitter.  I mean, they don't make me lazy, really, I do that to myself, but they do enable the soundbite that defeats any attempt at nuance or a complex message.
So I'm inspired by today's FIRST TEDX@CUNY conference to post my opening remarks.  I also do that knowing that in the spirit of the moment, I may not say anything at all like this.  Perhaps I'll sing the Star Spangled Banner??
What I meant to say was this:
Welcome to the first TEDX CUNY and to Macaulay, the honors college of the City University of NY.  
This is where TEDx CUNY was incubated, and I'd like to congratulate our students on today's remarkable launch, especially our fearless leader, Macaulay at Brooklyn College student Jake Levin.  
And that's our mission at Macaulay — to reflect the great talent and breadth of interests of our student body.  
We reflect it, we help shape it, and today, we show it off!  
The program and our theme – ACCESS — was put together by students, from beginning to end.
It's a great theme and it shows why Macaulay and CUNY and TEDX belong together.  
I say that as someone who went to some of the wayback TED conferences — way back in the 20th century when there was no X and no live streaming and Saul Wurman was the Man.
We belong together because we share the TED mission of being a global community, welcoming people from every discipline and culture who seek a deeper understanding of the world.  
You'll see those ideals reflected in today's program, which keys off the specialness of our knowledge community here at CUNY.   
I am here today as Dean of Macaulay but also as an eager learner myself, ready to soak up the energy and excitement of being surrounded by all of you, here in this room and those of you who are watching the livestream in every borough of New York.  
You are part of the greatest student body in the world, half a million strong.     
So welcome — thanks again to the TedX CUNY student leadership team and their tireless Macaulay advocate, MR. DREW ADAIR, and a special shoutout to Robert Small and the Macaulay New Media Lab, and to Bob Isaacson and the CUNY TV team.
It is now my pleasure to turn you over to a great leader who is already spreading ideas around CUNY:  our new Chancellor, James B. Milliken.