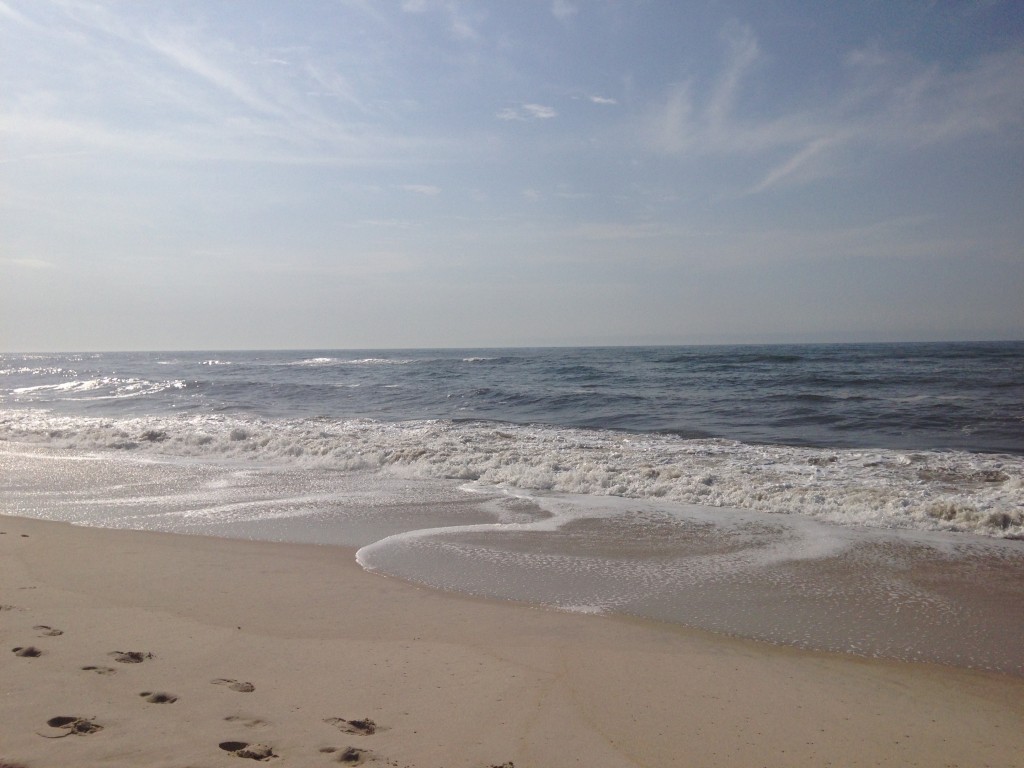 I usually listen to audiobooks while walking in solitary happiness on the beaches of Fire Island.  Look — i took this picture this morning, isn't it beautiful?  
So far this summer, I've finished Emma, Decode, and The Fault in Our Stars.  (Go ahead, analyze me.)  But I needed a break after that remarkable trio.
If you don't know Swell, download it right now:  Swell is a terrific app that curates podcasts remarkably well.  After asking some basic questions about your interests, the app takes note of how long you listened to a given piece, much smarter than relying on your thumbs-up-thumbs-down judgment, which I rarely bother to do.
Swell already knows that I'm interested in tech, news and politics, science and medicine, society and culture.  (Apparently, Swell has determined that I'm not at all interested in kids and family, but please don't tell that to my new grandson.  Then again, you already know I'm walking in solitary splendor on the beach!)
I've been a Swell listener for a while, but only in those rare times when I'm driving. This was a new test:  could it work well with my favorite walk of all?
Yup, it was great.  I started out with NPR news, just to be responsible, but then moved on to an interesting piece from Scientific American on how pain is felt differently in different parts of the body, clicked past Fareed Zakaria on the debacle in Iraq (not an isolationist but I already had my daily fill of Middle East anguish), and something else dubious on the "Walkable Neighborhood Health" before I settled in with a long and delightful Alec Baldwin interview of Jerry Seinfeld that took me most of the way to Ocean Beach.
Got to know them both much better.  Who knew that Alec Baldwin was so needy?  Seinfeld played him mercilessly.  And who knew that Seinfeld starts the morning by slapping water on his face, a la Jackie Gleason in the Hustler.  Three times?  Five times?  Baldwin really wanted to know the right number of slaps.
The last long wonderful segment was by Sasha Weiss of newyorker.com.  (I used to know a Sasha Weiss in Saltaire, hmm.)  As a result, I'll definitely be seeing the Jeff Koons retrospective at the Whitney (Peter Schjeldahl) and watching Orange is the New Black (Emily Nussbaum) and sampling Brian Eno's new album (Sasha Frere-Jones).  Also discovered that I was one of those reactionaries who liked the "old" Talking Heads, and in fact, I'd argue that when you look at David Byrne's new work, especially Here Lives Love at the Public Theatre, it's clear where the real genius was….but I digress. 
I could have gathered up all of these podcasts myself, of course.  But I hadn't, and I won't.  So Swell is my new best audio friend…at least until someone recommends my next irresistible audiobook.  
*I won't pretend these are my real top beachwalking 10 — that would take too much serious dedication to cull the finest, but here goes some of the summer reads that left a deep mark in the sand:  The Odyssey, Middlemarch, Anna Karenina, St. Vita's Society, Dragon Tattoo (any of them!), Harry Potter by Jim Dale (any of them!), Ready Player One, Endymion, Pallisers (any of them!), American Pastoral.