Two ends of my holiday table:  one spans nine decades, the other is approaching just nine weeks.
These are the new guests at my Passover celebration tonight:  my new grandbaby and my parents, now 90 and 92.    
We took note of the unexpected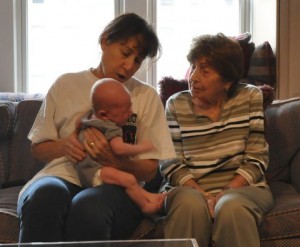 similarities between them. 
They are much loved, and they couldn't be happier to see each other.  
Their time of life requires special care, special food, special equipment. 
The sound of the baby's whooshing baby bouncer sounds eerily like my mother's oxygen compressor. 
Their needs seem to change hourly, as mysterious aches and pains emerge and then resolve themselves, sometimes with medication, sometimes just with patience.
Tonight's theme is liberation.  As I watch the baby fight to find his fingers and soothe himself, I think about another shared wish with his great-grandparents, the desire for comfort, strength, and independence.