The OK Corral has stuck in the American psyche since October 26, 1881, when the Earp brothers and Doc Holliday strode down Tombstone's Main Street and confronted a quartet of cowboys and ranchers near the O.K. Corral.  Less than one minute and dozens of bullets later, three men were dead.
Hard to believe that anyone in Tombstone that afternoon — including the protagonists — could have imagined that we'd still be talking about it today.
But we are.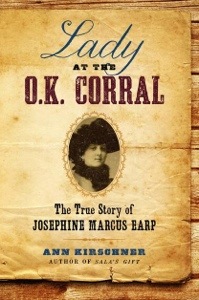 The Gunfight at the O.K. Corral never loosened its iron grip on the public's imagination.  For more than a century, it has remained an important symbol of American culture, evoked in the wake of every contemporary tragedy, from Columbine to Gabrielle Giffords, an enduring reference point for conflict and violence. On Wikipedia, the story of Tombstone, Wyatt Earp, and the shootout is told in twenty-six languages. You will find the OK Corral brand on a bar in Fort Worth, an athletic clothing store in Anaheim, an RV park in Branson, a popular climbing route in Wyoming, a Montessori school in East Texas, even a French amusement park near Marseille.
More recently, you saw it during the government shutdown on newspaper headlines and tv crawls as shorthand for conflict and uncompromising positions.  The OK Corral promises a fight to the finish.  Victory or defeat.  Heroes and villains.  Black hats on one side, white hats on the other.
And yet, like most things in life, OK Corral is so much more complicated. The real gunfight sprang from a complex web of economic, political, and sociological causes.  The real gunfight took place in an empty lot near – not inside — the O.K. Corral.  The real gunfight was fueled by the complicated motivations of eight individuals whose reasons for violence ranged from greed to revenge to the misery of sleeplessness and an epic hangover, the product of a surreal all-night poker game. The name "O.K." itself came from a transplanted Yankee's homage to President Martin Van Buren's hometown of Old Kinderhook, New York, far from Tombstone.  It was Virgil Earp, not his now more famous brother Wyatt, who was supposed to be the peace officer that day.
And this year, there is new news about the mysterious woman at the OK Corral.  Yup, there was red-hot jealousy at the heart of the real gunfight. None of the contemporary articles — and there were many, as far away as Australia — knew about the love triangle that yoked Wyatt Earp to his rival. Even in the books that followed Wyatt Earp for the rest of his life, there was hardly a hint about who the real woman who had a lover on both sides of the feud:  Wyatt Earp and Sheriff Johnny Behan, the man who first brought Josephine to Tombstone and her first common-law husband.
When Wyatt Earp died peacefully in a modest Hollywood bungalow in 1929, he had outlived all the other players involved in the gunfight, and his Jewish wife Josephine — once the contested exotic beauty of Tombstone — was still by his side. She buried her common-law partner of nearly 50 years next to her mother and father in a Jewish cemetery, a hint of the Old Testament justice practiced by Wyatt, the natural law of an eye for an eye, a tooth for a tooth.
The Gunfight left its real history behind long ago and passed into modern folklore.  It is as dumbed down and disconnected from its historical context as today's tourist town of Tombstone, which still draws more than 400,000 annual visitors to its tacky hourly reenactments.
Yet we continue to evoke the gunfight because it presents an irresistibly simple solution to life's unbearable complexities, packaged with dramatic flair as a deadly quadrille on a cool and cloudy October day, its participants "hurled into Eternity," as the Tombstone Epitaph reported the next day.
We long for that decisive shortcut, while we recognize its impossibility.  Our better selves know the importance of compromise and reconciliation.  For our families and our future, we need leaders, not cartoon heroes and villains; ideas, not ideology or even worse, reenactments.