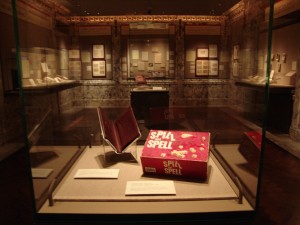 Met a Czech radio broadcaster in Prague, who posted this about my mother's letters.  Thanks David Vaughan!
Sala's Gift:  A Whole War in a Tin Box
Went looking for an image of the original box, which of course was cardboard not tin…and was reminded of our beautiful NYPL exhibition.  This case, which on July 4 houses an original copy of the Declaration of Independence, held the Spill and Box box, as well as the original small leather portfolio in which the letters slumbered for so long.