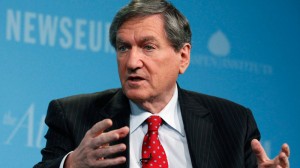 I haven't met that many Ambassadors, which is partly why Richard Holbrooke looms large in my mind.  But it was the circumstances of my dinner with him that was so memorable. I was working at the NFL and attending an exhibition game, Giants v. Chargers, in Berlin.  Holbrooke was Ambassador to Germany.  We had a cocktail party and then dinner at his house before the game. I think I sat at his table.
I watched some of the game on the field (one of the only times I got to do that, loved it).  The rest I watched from the Ehrenloge at the Olympicstadium, which was built for the 1936 Olympics. I sat there, marveling at the weird twists of fate that brought me, a survivor's child, to Hitler's box.  Sitting next to me?  Marty Glickman, the famed sportscaster who was denied his chance to run in the Olympics by an anti-Semitic gutless American organization.
When Glickman died, I wrote about our encounter in a NYT letter in 2001.
To the Sports Editor:

Marty Glickman and I were strangers when we sat next to each other at an N.F.L. exhibition game in Berlin in 1994. We were introduced in the unforgettable setting of the ehrenloge, Hitler's own box, in the Olympic stadium. We shared a moment of triumph: we were there, the Olympic runner and a Holocaust survivor's daughter — and Hitler was not.
So tonight I am thinking about an extraordinary evening in Berlin, the integrity of Marty Glickman, and the sense of intellectual power that lingered after a brief conversation with Richard Holbrooke.