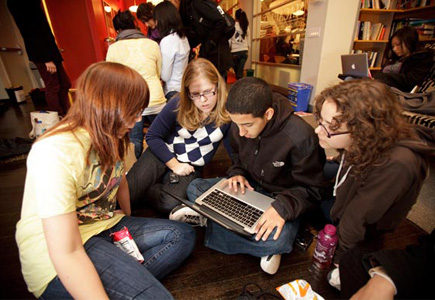 Rainy day in Central Park, but freshmen orientation got off to a great start.  Loved the poetry slam, creative, rhythmic stories delivered with passion and intelligence.
Met students from every campus and many high schools — Hunter High Science, Townsend Harris, Herricks, Midwood, Molloy, Yeshiva Flatbush, La Guardia — what, no Stuy? must have been hiding! Great to have new Associate Director of Student Development Drew Adair on board, hurray for Autumn Payne and the Macaulay team, the NYC Outward Bound team, and Macaulay interns Marianna Davydova, Hunter '11 and Ke Jiang, Baruch '13.
NEXT UP: TECH DAY AND THOSE LAPTOPS!
EXPERIMENT ** COLLABORATE** ANALYZE** COMMUNICATE** LEARN WITH LOVE